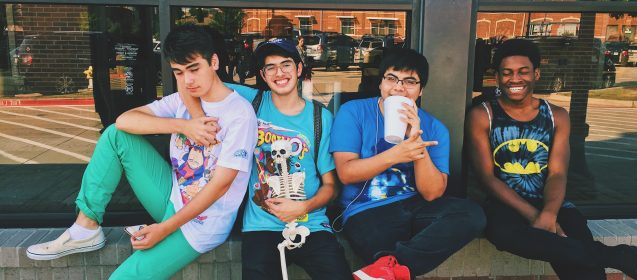 When kids get home from school or practice, they want something to eat. You can make it a snack that's good for them with a little planning. Once kids hit their teen years, it's hard to monitor the food they eat, so the best way to help develop health habits is to have the right foods available. Here are some healthy snacks for hungry teens you can premade and in the refrigerator or ready to eat on the shelf. Snacks are an important part of a teen's diet, so having easy access can encourage healthy habits.
Individual serving size treats make it easy to grab and go.
The easier it is to grab a snack for later, the more apt your teen will take it along. Individual serving size baggies of nuts and home made trail mix in individual serving sizes is one good way to start. If you have an active or athletic child that needs a snack after practice. One serving may not be enough or you may need to supplement it with fresh fruit, such as a banana or apple. The fiber from both fruit and nuts and the protein and healthy fats in the nuts can keep your teen feeling fuller longer and provide nutrients.
Make or buy freshly ground nut butter to ensure it's pure.
If you're buying commercially made peanut butter, make sure there is only one ingredient, peanuts, but it also could have a little salt for flavor. Have it ready to slather on apple slices, or put it on the ribs of celery sticks. If weight gain or muscle building is important, peanut butter and banana sandwiches can do the trick. For weight loss, a half apple with a tablespoon of peanut butter or cashew butter is 95 calories and walnut butter is 85 calories. Add in the calories of a half apple, which is 50, and you'll have a great snack that will fill up your teen without packing on the pounds.
Make up individual bags of popcorn or microwave popcorn to heat and eat.
Popcorn is healthy and easy to make. It's a low calorie option that can be made ahead or in a few minutes in the microwave. Don't use prebagged microwave popcorn. Instead, put 3 to 4 tablespoons of a popcorn in a brown paper lunch bag, push out much of the air and fold the edge twice. Microwave for two minutes until the popping slows and sprinkle it with Parmesan cheese, salt or other popcorn topping.
Have heard boiled eggs cooked and ready in the refrigerator. Store them away from the uncooked eggs in a special container. Sliced cheese with apple slices or celery is another healthy snack.
Make healthy dips to go with fresh fruits and vegetables. You can season Greek yogurt, make avocado dip or use hummus. Have cubed fruit like melons available and a yogurt dip made without added sugar.
What you provide for your teens to drink is just as important as what they eat. Say no to colas and sweet drinks and yes to water, or flavored water if you want a special treat.
Make your own special treat with steel cut oats. Sweeten a few tablespoons of peanut butter with a little honey and stir well. Add enough oats to be able to handle. Roll in a ball and roll the ball in left over wheat germ or oats.
For more information, contact us today at Sci-Fit Nutrition